---
Guido Hatzis

Falmon X Northern Carousel II
(Falkland/Monopol X Northern Congress)
Warmblood Stallion
DOB: 2003

Guido started his career as a successful show jumper with Dave Cameron. He is now being campaigned on the eventing circuit by Lauren, and turns heads where ever he goes. His lovely quiet disposition and sweet nature, combined with his super jump and athleticism make him a great prospect for breeding eventers. We currently have two foals on the ground by Guido which we are very excited about.





---
Salute
Salute has produced many highly successful dressage & jumping horses. He is the sire of GV Stirling Stilton who was short listed for the Olympic Games in Athens and was the best placed Australian Dressage horse at the World Equestrian Games in Jerez 2002. Salute has also sired the 2005 National Grand Prix champion DP Christopher and Grand Prix horse Argentille Shamada as well as eventers such as Stirling Soux and Sydney Lights.
Salute's sire, Saluut, was a graded, 100 day performance tested Holstein stallion and an International Grand Prix jumper. It is widely acknowledged that Saluut would also have been equally successful as a dressage horse. Saluut is a proven sire of world class offspring in both showjumping and dressage. Worldwide he has produced over 300 successful showjumpers, 294 dressage horses, 353 graded mares and 16 graded stallions.
Saluut's sire Ronald has produced a large number of offspring successful in international dressage and jumping. Saluut's grandsire, Ramiro Z (himself a Grand Prix jumper ) is legendary, having been bestowed the title 'Horse of the Year' in 1992. Ramiro's dam, Valine, acquired international fame as a showjumper. She is the daughter of thoroughbred, Cottage Son, who became famous through his son Consul.
Consul is the sire of Granat, the most successful dressage horse of the early 1980's, and great grand sire of Corlandus, dressage Olympic Silver Medallist.
Photo and Text (ammended) The Horse Magazine
---
Ludendorf
(Luciano/Waidmannshiel/More Magic xx ) was imported to Australia in 1984. He stems from the German 'L' line through Lukas, Lugano I and Der Löwe (Wahnfried/Herold xx/Fervor xx). On arrival to Australia, he was campaigned by Heath Ryan at advanced level One Day Events and up to grand prix level dressage. He has sired top level performers in all 3 Olympic disciplines.
Ludendorf's sire, the Hanoverian stallion Luciano (Lukas/Eindruck II/Feldmarschall), was known for producing highly talented performance horses in both dressage and show jumping. Luciano is a full brother to the dressage derby winner Marshall 55 and has a number of approved sons such as Lord Nelson , Lincoln, Lundberg , Lurioso , Lysant ,and Ludendorf (Imp/Dec).
Luciano also presented the successful international competition sports horse Lorenzo 40 , who won the English show jumping derby in 1985 under Paul Schockemöhle at Hickstead. Luciano is found in many good stallion pedigrees, including the stallions Depardieu , Diamond Hit , Royal Hit and Smash Hit (Imp)
Photo and text ( ammended ) The Horse Magazine
---
Balou du Rouet
By Baloubet Du Rouet - Continue - Domino
Oldenburger, 1999, 170cm (16.3 hands)
Balou has impressive rideability and is a dominant producer of type, elegance , movement and first class jumping quality . He displays wonderful elastic gaits and after completing an excellent Stallion Performance Test, was awarded top marks for jumping, 9.5 and 10.0.
His sire , Baloubet du Rouet, is at the moment one of the most successful jumping stallions at international level . A World Cup Champion, no horse has ever achieved such a record in the World Cup series with 3 wins and 2 seconds in 5 consecutive years. Added to this magnificent record, he has also been French 7 year old champion, team bronze at the Sydney Olympics and many Grand Prix and Nation Cup wins. He has an exceptional pedigree. Grandsire Galoubet is son of the great stallion Almé. On the dam's side, through Rantzau, he is directly related to the founder of the bloodline "Cor de la Bryere" . His stunning dam, Georgia is by the Contender son, Continue. He proved his genetically predisposed jumping qualities at the 30 day test in Vechta in 2002, where he received a convincing score of 9.2 and scoring the highest mark of 9.2 at the national championships, making him one of Germany's top 4 licensed stallions.
Balou du Rouet emphasises his dominant quality as a producer of type, elegance and movement. * *
Photos and text ( ammended ) - International Horse breeders
---
Status Quo
Oldenburg, Dark Bay, Born 2004 , 16.3 hands
Status Quo was the undisputed winner of the 2006
Oldenburg licensing. In 2007, Status Quo finished his stallion performance test with good results, taking fourth place overall with a score of 127.38 DI: 132.04/4
SI: 107.72.
His sire Stedinger, winner of the 2002 Oldenburg Stallion Days, is a modern, elegant , elegant and large framed stallion having great rideability, jumping performance and strong movements. His sire Sandro Hit was federal champion six-year old dressage horse in 1999 and world champion of the young horses in Arnheimand and has become one of the most sought after contemporary sires. The maternal bloodline includes Landadel, Futuro and Adonis xx from whom many successful showjumpers, dressage horses and cross-country eventing horseshave been made.
Status Quo's dam´s sire Quattro sired World Championship and Olympic Game horses that competed in three equestrian disciplines: dressage, show jumping and eventing. Quattro amazingly had two offspring qualified for the Olympics in Athens 2004; Quando Quando for dressage and Oliver Q for jumping. The granddam Lady Madonna, Oldenburg Champion Mare in 1999, meanwhile competes in advanced level show jumping.
With Argentinus, whose off-spring have won millions, that have written breeding history . His first foals reflect the type and noble looks of their sire.
Photos and text ( ammended ) ExclusiveEquines / Yancey Farm (USA)
---
Stalypso
Hanover, Oldenburg, 2002, 168 cm
Champion Stallion of the 30 Day Test 2005 in Schlieckau
This especially strong type and strong moving son of the exceptional jumper-maker, Stakkato, is in a class by himself over the jumps. He shined at his 30 day test in Schlieckau with series of top scores and with a total score of 8.95 he was the best stallion at the test. His ability to jump was rewarded with the outstanding score of 9.88.
His dam's sire, Calypso II, is not only the sire of Contender, but also scores of top horses in breeding and sport. The quality of his movements and his radiance were inherited from the Grenadier son, Grand Royal, and Absatz. The dam, State Premium Caracalla, passed her performance test with outstanding results, including a score of 8 for rideability and a 9 for jumping. She is also the dam of Streamer, another very talented Stakkato offspring now successful up to mediumlevel. Other jumpers from this line are Spaceman and Chappelou as well as the licensed stallion, Fashion Black.
Photos and text ( ammended ) Waterview Park
---
Trak
For many years, Liski had been the largest Polish national stud of horses and it was where TRAK (Kerman wlkp - Tajga wlkp/ Poprad wlkp) was born. The sire of Trak was Kerman wlkp (Labirynt xx - Krajanka wlkp/Haakon wlkp). The grandfather, Labirynt xx, like the majority of Thoroughbreds in Poland, began his career on the racecourse. Labirynt had a big heart AND was a very versatile horse. He underwent a few years sport training and participated in jumping competitions as well as several dressage competitions under Marek Orlos.
When used in breeding he left nine sons registered in the Polish Equestrian Federation. Kerman is considered one of the best of his offspring.Unfortunately a close encounter with a tree branch resulted in an eye injury, which put a premature end to his sport career.
Kerman's offspring were noble in type, with lean limbs and good canter but high-strung. Their characters tended to be very much unlike Kerman's - very calm and even-tempered.
Trak's dam, Tajga (Poprad wlkp - Tancowka wlkp/Kondeusz wlkp) was highly valued in Liski. Tajga was only briefly used in sport, i.e. in four-horse carriage driving. Tajga's sire, Poprad (Traum wlkp - Poprawka wlkp/ Pilgrim trak) is a legend in Polish equestrian sport. Despite conformation faults, he was a very successful showjumper. He was in the Olympics twice, in Munich and Mexico, and 18 times represented Poland during the Nations Cup. He passed onto his offspring stamina, pretty head of a good shape, a long neck and dark coat.Trak - George Sanna remembers.
"I noticed every 30 seconds, there was one horse that jumped way better than all the others, I'd try to follow it then I'd hear it behind me - you know how you can hear a horse jump well, pinging off the ground - I turned around and finally isolated him. " Trak".
"He arrived in Australia about six months later and we were very enthusiastic about him, but shortly after he arrived, Rod was riding him down to the arena, and he did a big stallion rear, squeal and spin, and he lost his footing. He did the splits behind and fell over and he was never sound after that, not crippled but just not right behind - so off he went to become a breeding stallion".
What has he put on his progeny?
"The same good quality jump he had. He was a nice horse with a great temperament. I think he was really under-utilised, which is a pity because I've hardly seen one that can't jump. I don't think he ever got the big opportunities".
The Horse magazine (amended text)
---
Brilliant Invader
Brilliant Invader is by Vain. Vain horses are famous for being honest and tough.
Foaled in 1978, Brilliant Invader was a moderate success on the racetrack. In New Zealand, he sired the World Cup showjumpers Pirate, Mitavite Imperial, Gingernut, Scarlett and Dunstan Flower Power as well as a number of other better than average horses , to rank 2nd on the NZ jumping sires list with just 10 offspring competing. This is the more impressive when it is considered that they were all re-cycled racehorses rather than purpose bred jumpers. Brilliant Invader also sired exceptionally talented eventers. Ready Teddy was obviously the most famous of his NZ offspring (individual Gold with Blyth Tait at Atlanta). The most successful of the Brilliant Invader stock in Australia is Street Talk who has jumped World Cup . In Victoria there is Koyuna Mousetrap ,who is both a successful eventer and showjumper and Mini Prix horse Hush.
Jane Griffin has been breeding a number of youngsters by Brilliant Invader. "They are calm, curious gentle horses with good bone, straight legs, evenly shaped hooves with particularly strong back and loin muscles. They are excellent to train because they want to please so much, however they are very sensitive and what I have found is they respond brilliantly to positive reinforcement."
Brilliant Invader's potential as a jumping sire should have been apparent from the day he was foaled. He was by that great racehorse, and sire, Vain, out of Persian Bronze, an Oaks winning mare by Agricola .Vain was a sprinting/middle distance horse, but his blood was rich with the Thoroughbred heritage found on almost every great jumping pedigree. Brilliant Invader's dam sire, Agricola is the sire of Vicki Roycroft's great showjumper, Apache ,and he was one of the last son's of Precipitation who was perhaps the most influential jumping sire of them all, through his son Furioso whose stallion sons dominated jumping breeding in France, Germany, Holland and Belgium for many years. Victorian eventer, Kim Jacobson, bred colts out of Tidal Wave (a two star eventer by the jumping sire, Flooding) and Daisy (a one star eventer by Sterling King, who was an advanced eventer with Black Pampas on his pedigree).
Text ( ammended ) The Horse Magazine
---
Flooding
Flooding , is a foundation TB stallion , who sired several top showjumpers including Another Flood who competed in several Olympics. Flooding also has the jumping world's 'root' sire Precipitation in his pedigree as well as important sires including the Son In Law/ Dark Ronald/ Bay Ronald family tree which have so influenced both the dressage and jumping fields in European warmblood breeding. The great Precipitation is possibly one of the most influential jumping sires of all time. Precipitation sired Furioso whose own stallion sons have dominated warmblood jumping breeding in France, Germany, Holland and Belgium for many, many years.Flooding is of course deceased but the line is legendary in Australian showjumping .
Text ( ammended ) Aurum
Performance Horses
---
Family Ties
Family Ties xx sired a number of top level jumping stars who show similar characteristics - all natural jumpers with calm temperaments.
Text and Photo Woodstock Stud
---
Jive Magic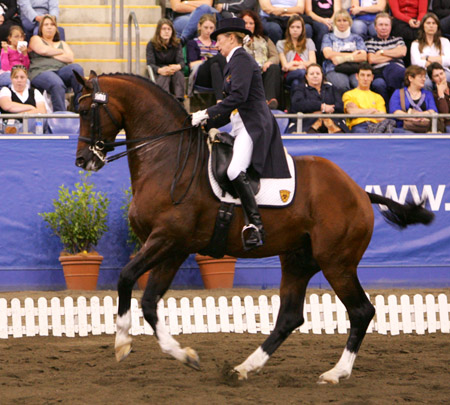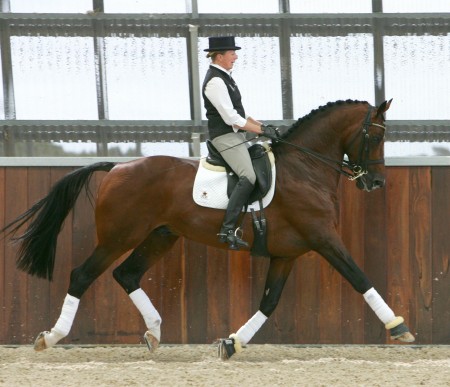 Jive Magic was bought as a foal by Rozzie Ryan whilst training in Holland. Jive Magic made his 'National debut' at the Victorian Dressage Festival in March 2002 and has won many championships since. Very succesful Prix St Georges & Inter I - they won the Freestyles and John Lieutenant trophy at the Sydney CDI 2009 and are campaigning Grand Prix - 4 starts, two wins and two thirds. Jive magic has already passed on his beauty, awesome movement and presence to his foals and his oldest progeny are now competing FEI level . Most notably is Jeff the Chef who won the American Advance Championships ,2008.
His sire , Jazz (KWPN) , scored over 70% in an International Grand Prix with Olympic judges. Jazz made a huge impression at the 2002 World Equestrian Games ridden by Tineke Bartles. Tineke was adamant that she had retired from dressage competitions, but the joy of riding such a wonderful stallion lured her back . Jazz is by Cocktail who competed Grand Prix with great success under Olympic Gold Medalist Anky van Grunsven and whose pedigree goes right back to the famous Thoroughbred Precipitation, who is respected as one of the World's most influential sires. The many outstanding horses that come the same lines as Jive Magic, are too numerous to mention.
On the dam side of Jive Magic is Landadel who is the sire of Australian Olympian Kristy Oatley Nist's Grand Prix dressage mount, Rosemount Showtyme and also Vicky Roycroft's Luna Luna who is currently winning at World Cup showjumping. Also on the dam side is Aktion who was just amazing at the World Championships in 1994 at the Hague and again at the Atlanta Olympics in 1996 under Hungarian rider, Gyulla Dallos. Aktion brought a new meaning to piaffe and passage.
Text (ammended) courtesy of Heath and Rozzie Ryan and photos Cyberhorse
---
Sirocco
had the type of the much favoured 'modern' looking stallion. The long legs, elegant head and neck, and sloping shoulder were all consistent with his refined body.
The pedigree and conformation of this exceptional young horse was impressive. On top of that he showed the most amazing movement and a temperament and character that was equally impressive. Sadly deceased at a very early age, he has only limited progeny on the ground that are now commencing their careers under saddle.
Photos and text (ammended) courtesy of Bloomfield Farm
---
Sir Oldenburg

Sir Oldenburg was premium stallion of the Oldenburg Stallion Licensing in 2000, and completed the 30-day test in Neustadt/Dosse the following year, where he was 3rd , being only 4 weeks under saddle. With a dressage index of 144 points, Sir Oldenburg is one of the 5% best stallions of Germany.
His movement is spectacular with a lot of mechanic and he shows a lot of scope over the jumps. Sir Oldenburg is a very modern type of riding horse. Sir Oldenburg's sire Sion is known in Oldenburg as a highly versatile sire. His progeny have shown great success in Dressage, Showjumping and three day eventing .
---
Contender
Sir Oldenburg's dam sire, Contender, needs no introduction. Contender's jumping index is an enormous 154 while the dressage index is 116, and he continues to prove himself to be one of the most influential sons of Calypso II . Calypso II was an advanced level show jumper with Michael Ruping before retiring to stud where he sired a number of quality show jumping horses. He also sired a number of top grade dressage competitors. Most of his children are registered Holsteiner or Oldenburg , 46 of them show jumpers at S-level , 6 at S-level dressage and he even has S-level offspring in disciplines such as carriage driving and three day eventing .Contender is out of Gofine who's grand sire was Ladykiller xx . Gofine produced several top show jumpers including the international performing horse Ulina .
Contender was ranked third in the list of the world's best showjumping sires in 2004.
---

Donnerschlag

Sirocco's dam Dominga is by the legendary Donnerhall son Donnerschlag , Donnerhall having the reputation as the Dressage Sire of the Century'.
Donnerschlag himself was rated top of the 1995 FN Breeding Index for Dressage achieving a score higher than ever before, was also successful at Grand Prix Dressage. He had top ratings for years with his breeding index in both Dressage & Showjumping.
---
Souvenir xx

Perhaps no stallion has had such a profound influence on Australian performance horses, particularly jumping horses, as Souvenir. Souvenir was by Request - himself a well-known sire of jumpers. Souvenir was many times champion hack but it was as a sire of jumping horses that Souvenir was to achieve fame. Perhaps the most famous were Tongala, who won a Showjumper of the Year title in Australia as a youngster, and Autograph who represented Australia at the Alternative Olympics in Rotterdam where he finished fifth in the Individual competition.
Another son of Souvenir, Mickey Mouse, carried Vicki Roycroft into tenth place at the World Championships in Stockholm in 1990 .
Souvenir died in 1979 but his influence lives on through his stallion sons. Silveneer, himself an A grade showjumper, sired Silverwood, who competed in Europe with Robert Hines. Another son, Kumali, is the maternal grand-sire of double gold medal winning eventer, Peppermint Grove.
Text ( ammended ) The Horse Magazine
---
Fürst Love
is a sensational young stallion with the looks, movement and pedigree of a sensational dressage horse: smooth lines, an excellent neck-shoulder formation and movements that can only be described as first class. He was Oldenburger Licensed in December 2008 and has recently completed an impressive 30 Day Performance Test as a 2 year old. He finished 3rd in Dressage, (after two 4 year old stallions) out of a group of 28.
His temperament and rideability are exceptional and his movements are of especially high quality. The ground covering walk is elastic with plenty of swing. Equally so is his trot, with great expression and huge hock and knee action. The canter being the highlight of his gaits, is extremely graceful, active, uphill and wonderfully balanced.

Photos and text ( ammended ) courtesy of Bloomfield Farm
---
Royal Hit
His dominance as a producer sees Royal Hit stamping his progeny with all of his quality traits. He consistently produces a complete package of unmatched quality. The oldest progeny in Germany are making a big impact in the young horse competition ring with consistent scores over 9 and up to 10 (for walk). Royal Hit progeny have brilliant temperaments and their trainability is second to none. The conformation is excellent, with a strong resemblence to their father; leggy, uphill, elegant. The movement is exceptional, with super knee and hock action, and more importantly an elastic, swinging back. Royal Hit have the temperament to suit riders of all levels and the talent to reach the top.
With Royal Hit's famous Loretta dam line, being one of the most successful dam lines in warmblood history, breeders can be assured of quality and consistency.
( Photos and text courtesy of Bloomfield Farm )
---
Grafenstolz

Trakehner, dark bay

Year of Birth: 1998
Shoulder height: 16.2 hands

This superb blood type stallion brings everything that modern sport horse breeders are looking for;
movement, scope, blood, temperament and looks.

Grafenstolz was awarded a premium at the 2000 Trakehner licensing in Neumünster as a two year old. He proved his versatile talents right from the very beginning on the sport, as a five year old winning several 1.25m level tests for showjumpers as well as medium dressage. As a six year old he made German breeding history by becoming the first horse ever to qualify for the finals of the Jumping, dressage, and Eventing in the same year. He went on to win the eventing with an average score of 9.7 out of ten. This was followed later in the same year by him winning the World Championship for young event horses in Le Lion d'Angers, France.
In 2005 as a seven year old he won his first advanced level event competition. In 2006, as an 8 year old he won the bronze medal at the German Championships in Schenefeld, then placed in two international three star competitions and won three international two star competitions. In November 2006 he received Trakehner Horse of the Year award given by the Trakehner Verband. In 2007 and 2008 he won at Compiegne. In 2007 he competed in a puissance class and cleared 2 metres or just under seven feet.
Most recently (Dec 2009) Grafenstolz competed in his first Prix St George and won it with 69%.
His sire Polarion is highly succesful both in breeding and the sport. As a seven year old, he had already won advanced (S) level dressage competitions and became the 2000 National Trakehner Champion at the show in Cologne. Meanwhile he is successful with Markus Gribbe in World Cup Freestyles. The dam St.Pr.St Gipsy Lady, is by the Danish Champion stallion Camelot. Camelot is a son of the successful Grand Prix stallion Arsenal. Gipsy Lady is a full sister of the State Stud Moritzburg sire, Gipsy King. The granddam, St.Pr.St. Grazie II, has won many prizes in breeding and sport. She was champion mare at several broodmare shows and participated in the Bundeschampionat twice. The great grandsire Arogno is regarded as one of the trademark sires of post war Trakehner breeding. Grafenstolz comes from the Trakehner family of Gundula 509 (by Hypnos-Columbus-Czardas; Poll-H'rem). This line also produced the stallions Ginster, Grandioso, Gundo, Gunnar, Guter Planet, the licensing winner Guter Stern and Guy Laroche.
Many of Grafenstolz' off-spring from his first crop of foals were awarded premiums in various breeding areas. With an average score of 8.2 for his first crop, he ranked number one of all stallions in Baden-Württemberg. The Baden-Württemberg Verband awarded him a premium as a young stallion.
Text ( ammended ) from French Stallions.
---